Meet to Delete!
Saturday April 26th 2014 – 17h00 – 21h00
Galerie Up – Bruxelles – 17 avenue Paul Dejaer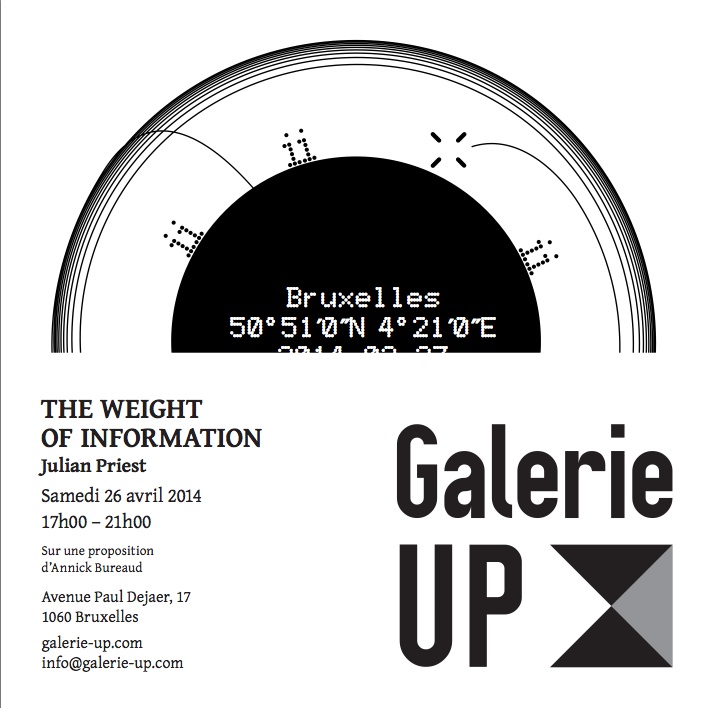 Clarisse Bardiot and Annick Bureaud are happy to invite you on April 26th 2014 to Galerie Up in Bruxelles to Meet to Delete! as part of the art project 'The Weight of Information' by Julian Priest.
The Weight of Information – A Femto Art Satellite in Low Earth Orbit
On April 18th, aboard the SpaceX-3 Commercial Resupply Services flight CRS-3, a small art satellite has been launched into Low Earth Orbit from where it will begin to descend in a spiral trajectory before burning up on re-entry. The Satellite collects information from it's on-board sensors filling it's memory banks with data. When its memory is full it resets its registers to zero and starts collecting again, repeating this process thousands of times a second. The satellite believes that information has weight and is trying to escape it's death spiral towards burn-up by deleting information, being lighter and ascending to a higher orbit by forgetting.
Meet to Delete! A Four Hour Evening Event
You are invited to meet to delete in solidarity with the satellite. Come together at Galerie Up to lighten your information weight. Bring some personal information to delete around a drink during this 4 hour evening event: it could be destroying old (paper) bank statements, removing old contacts from your phone, cleaning out your spam folder, removing out of focus photos from your archive. Join us to delete something, remove the cruft, take control of your information, and feel a little lighter. And remember to delete more information than you create!