The selection of articles from the « Water is in the Air » workshop that I have co-organised in Marseille with Roger Malina and Pascale Hurtado in June 2012 have just been published in Leonardo (vol. 47, n°1, 2014).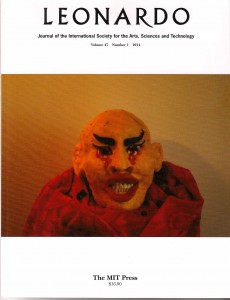 They are:
– J.-M Chomaz, « Science and Art of Sculpturing Fluids »
– Nathalie Delprat, « Walking Clouds and Augmented Reverie »
– Dmitry Gelfand and Evelina Domnitch, « Memory Vapor »
– HeHe (Helen Evans & Heiko Hansen), « On the Modification of Man-Made Clouds: The Factory Cloud »
– Monsieur Moo, « Paparuda »
– Ana Rewakowicz, « Anti-entropic Role of Art »
– Jacques Sapiega, « The Durance: Interlaced Waters: Art-Science Collaborations and Audiovisual Research »
– J. Tejerina-Risso & P. Le Gal, « Around the Cusp SIngularity and the Breaking of Waves »
The full documentation about this workshop and the video recordings of the presentations can be found on the website of the project.