Mon premier article traduit en chinois !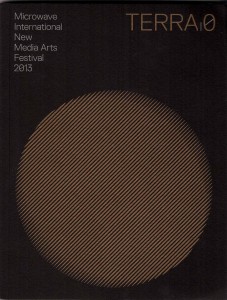 Cette année le festival Microwave de Hong Kong qui s'est tenu en novembre avait pour thème l'Espace.
Le catalogue inclut des essais de Rob La Frenais, Sarah Jane Pell et reprend mon article « A New Territory of (In)Human Proportions« . C'est la première fois qu'un de mes textes est traduit en chinois !
Parmi les œuvres exposées : Coallision (2013) de Reni & Jogi Hofmüller, The Martian Rose (2007/9) d'Howard Boland et Laura Cinti que j'avais présentée dans l'exposition « (In)Habitable ? L'art des environnements extrêmes » en 2009, Moon Goose Analogue: Lunar Migration Bird Facility (depuis 2011) d'Agnès Meyer-Brandis, Space Maintenance / Lost in Space (2009-2013) de duo We Colonised The Moon (Sue Corke & Hagen Betzwieser), Virtual Synchronicity (2012) de Tobias Klein. Le festival présentait également des programmes vidéos ainsi qu'un colloque.