En 2010, j'ai co-organisé pour Leonardo/Olats le projet de résidences d'artistes ainsi que l'exposition associée « Lovely Weather » à Letterkenny, dans le Donegal en Irlande.
Mon article « Lovely Weather: Reflecting on the Letterkenny Donegal Art & Climate Residencies and Exhibition » vient de paraître dans la revue Leonardo, Vol. 45, n°2, 2012, pp. 182-183 ainsi que ceux des artistes ayant participé au projet.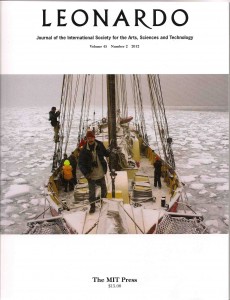 La couverture de ce numéro de Leonardo porte sur un autre projet lié au changement climatique, celui de Cape Farewell.